Purim

Mishloach Manot 2021
One of the mitzvot of Purim is to give bags of delicious treats to friends and neighbors. This is called mishloach manot. We have created a way for our community to fulfill this mitzvah together – even during the pandemic! At the same time, Beth Shalom will benefit from your generosity. Each family will only receive one basket, but will receive a list of all those who sent them a basket! These baskets will be movie theatre-themed and you are welcome to use them at the Purim at the Drive-in Megillah Reading on Thursday night, February 25! (see info below)
You should have received an email explaining how to order your mishloach manot with a personalized login ID and password. There will be a list of all of our congregants. We recommend you look through the list as a family and talk about the mitzvah of mishloach manot. This can help build excitement for coming to the drive-in to complete another mitzvah of Purim – hearing the megillah being read!
The bags will be filled with yummy goodies that can be picked up at Beth Shalom on Monday, February 22 or Tuesday, February 23. If you are unable to drive, please contact Stefanie to arrange for delivery.
Click HERE to find a flyer explaining how to purchase extra bags for non-Beth Shalom friends and family that you will be responsible for delivering.
If you have not received your Mishloach Manot email or if you have any questions, please contact Stefanie at swilliams@bethshalomkc.org. As always, thank you for your continued support.
Drive In for Purim 2021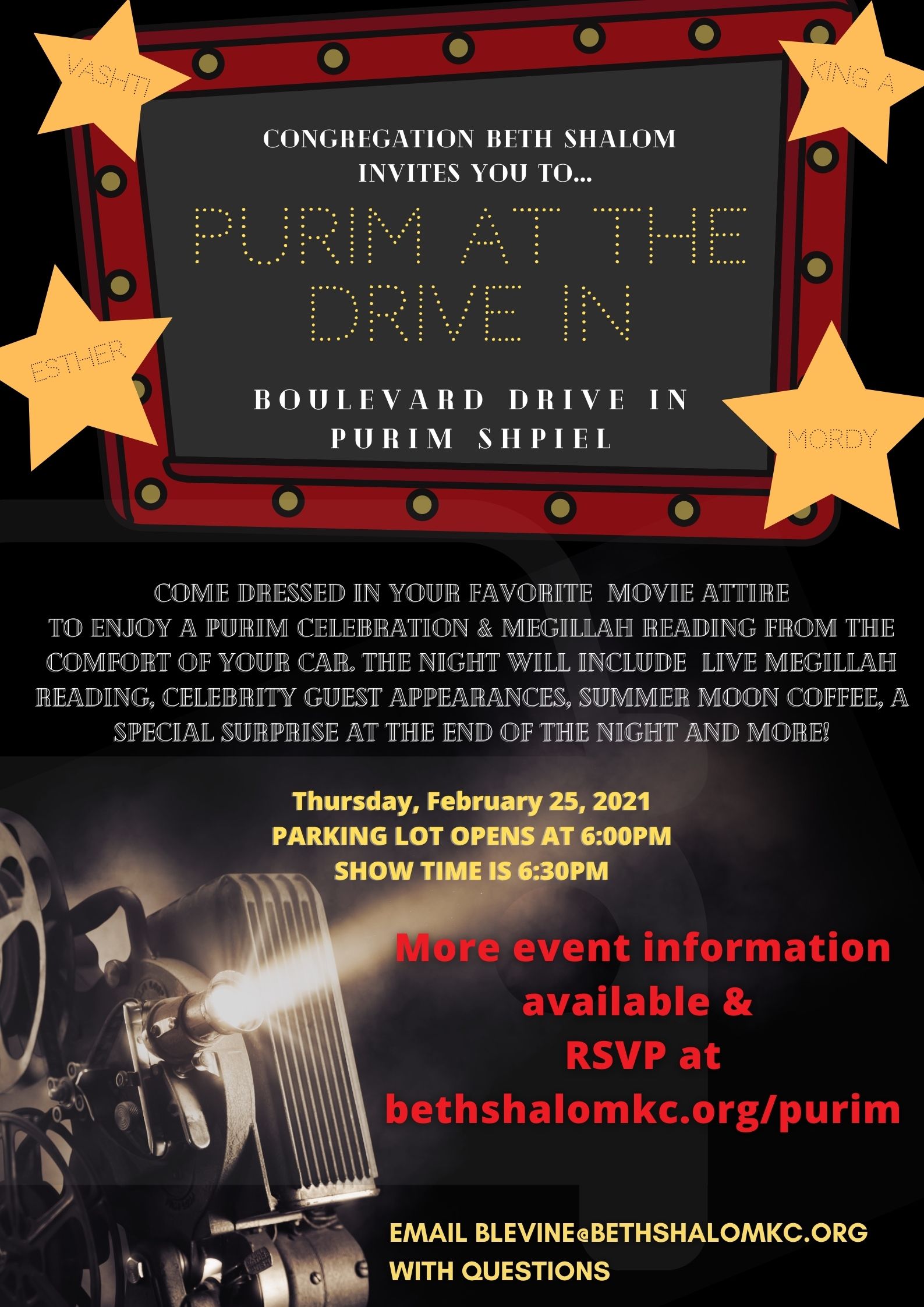 What you need to know about the Drive In for Purim:
*RSVP required for safety/security:
You will be required to give the name of your RSVP at the entrance. Please RSVP online HERE.
Address:
1051 Merriam Ln
Kansas City. KS 66103
When:
Gates open at 6:00pm
Event will close around 8:30pm
Restrooms:
Restrooms will be available at Boulevard Drive in. You will be asked to wait on marked X's on the ground to enter the restroom in order to provide the social distance needs to keep everyone safe
Food:
We will have pre-packaged snacks available for purchase to benefit KCUSY (9th-12th grade youth group of Beth Shalom). The profits of the sale will go to fund programming, lounge nights, and scholarships for USY conventions.
You will be asked to wait on marked X's on the ground in front of the snack area to in order to provide the social distance needs to keep everyone safe
Coffee: Coffee is sponsored by a new family run local coffee shop in Overland Park called Summer Moon. Summer Moon comes to Kansas from Texas as it is widely popular for their "moonmilk" which is a secret part of what makes their coffee incredible. Be sure to stop by for a cup. Learn more about this shop here https://summermooncoffee.com/
Car Parking:
When you arrive you will be given a "Hollywood Star" to write your family name on and stick to your car. This doubles as an invite to the greatest show in town and a safety measure to know who is in the lot. All cars will be parked socially distanced from each other and we ask that unless you are going to the restroom or getting food that you remain in your vehicle. Anytime you are outside of your car we ask you to please wear your mask to keep our community safe.
Photography:
We have purchased a snapchat filter for you to take pictures of you and your family during our event in lue of a photobooth. Feel free to capture photos using this filter and email them to blevine@bethshalomkc.org so we can feature you! In order to use the filter you will need to have snapchat updated, take a photo, and then you can slide the filters to find the one that says "Purim at the Drive in". We will also have a photographer coming to take pictures of your family while in your car and of the event. If you do not wish to have your photo taken please kindly let the photographer know.
Questions?
Please email our Director of Youth and Family Programming Becca Levine at blevine@bethshalomkc.org
Donate to KCUSY this Purim: Click HERE to donate!