Host a Teen for EMTZA USY Shabbaton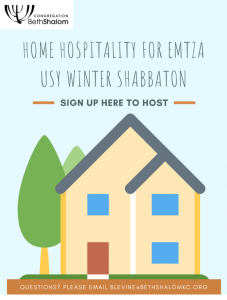 On January 24th-26th, Beth Shalom's KCUSY will be hosting Winter Shabbaton for the EMTZA region of USY. All of Beth Shalom is invited to join in the teenled Shabbat services to welcome the teens to our community. During the weekend the USYers will be hosted by our Beth Shalom families in their homes for Friday and Saturday night. We are looking for host families for this weekend. All you need to provide is a place for these teens to comfortably stay. We will take care of the rest.
If you have any questions or want to learn more…. please email Becca Levine, the Director of Youth and Family Programming, at blevine@bethshalomkc.org.