New Sacred Space
Beth Shalom has gone for nearly a decade without a sacred space for worship. When we came to our Lamar campus, our first priority was to create a space for our children to learn: classrooms for our Polsky Religious School and our Rose Early Childhood Education Center. We were able to use the Goldsmith Hall multi-purpose space for prayer and community gathering.
The time has come for our congregation to construct a sanctuary so members can worship together in their home. This new sanctuary will create inspiring space to pray together on the High Holidays, sing together on Shabbat mornings and dance together on Simchat Torah. We will celebrate together new babies, teens reaching the age of Bar and Bat mitzvah, couples uniting through marriage and milestone anniversaries.
The purpose of this project is to create a beautiful, inspiring and communal space that will uplift our Jewish living together.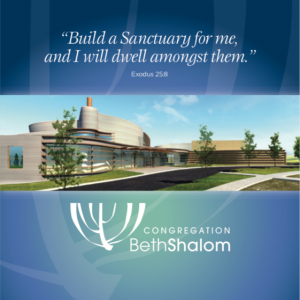 This is a once-in-a-lifetime opportunity to make a major impact on the future of our synagogue and our community. Gifts of all sizes are welcome as are pledges over a number of years or planned gifts.
If you would like further information, please contact Ellen Kort at EllenKort@gmail.com